Drag and Drop Media Files and Folders
Full drag'n drop interface for organizing files, images in folders or subfolders. Even create sub folders simply by dragging source folder and dropping it to destination folder. Automatic Save Droppable data using Ajax.
Multiple Folders/Sub Folders Creation
Easily create folders and sub folders, just drag and drop folder inside specific folder to create its sub folders. Features to rename folder and delete it in case you don't need it.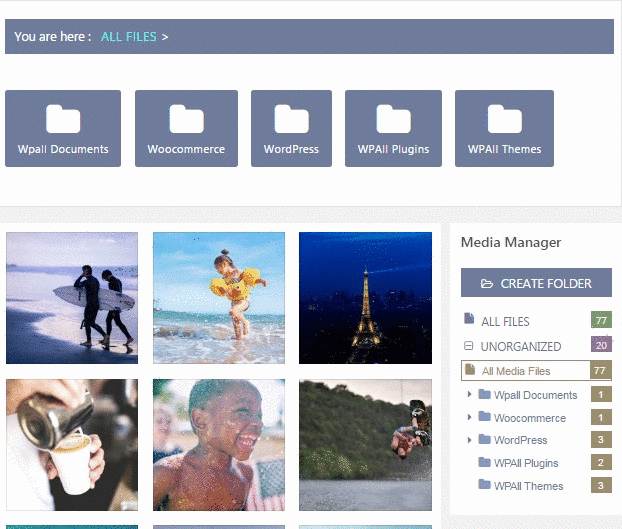 No Coding Skills Needed!
Create multiple folders and subfolders and simply drag & drop multiple media files to specific folder.No need to touch single line of codes.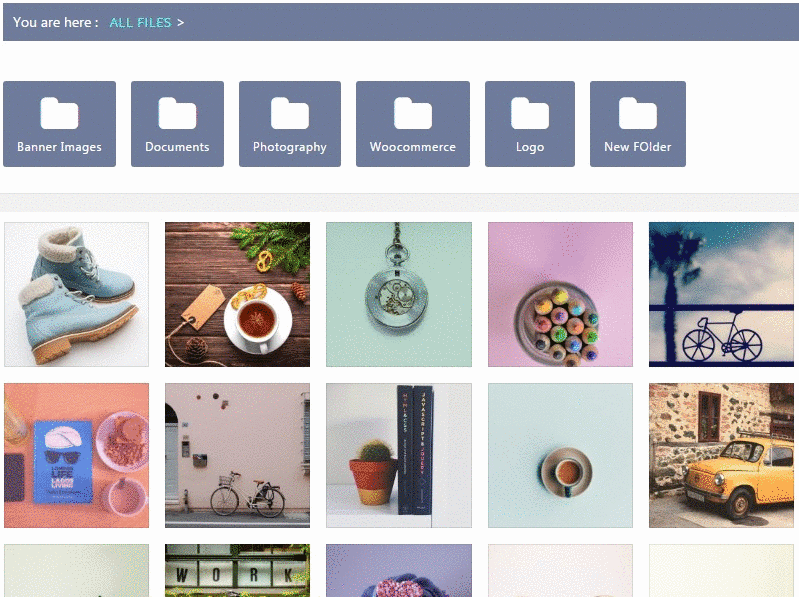 Media Files Ordering & Filtering Options
Enable filter options on WordPress default media manager. With an advanced WordPress media filtering and ordering within media library. Filter your media files by media items ( pdf, zips , documents), folder name wise as well as custom size and custom weight in both grid and table view of media library.
Add Multiple Custom Size and Weight Options
With Advanced feature to add your own custom weight and size simply choose specific custom options in order to list it on filter toolbar of media libary.
3 Inbuilt Responsive Gallery Beautiful Themes
Simple & beautifully designed gallery for frontend available with customization options. Showcase your gallery in the most appealing way.
Grid Set image size, columns , lightbox enhancement.
Masonry Set image size, columns , lightbox enhancement.
Slider Set Transition, image size, columns, speed, pause time and many more.
Easily Duplicate Media Files
Duplicate your media files with any mimetypes easily from media library itself.
Gallery Slider Shortcode From Folders
Create gallery slider from dropdown folder lists. Insert gallery shortcode inside editor content automatically after choosing specific slider options as per selected folder.
Single File Design Customization Options
Display media files such as pdf files with simple customization options. Display Single PDF file with single download link layout or PDF embed features with next , previous , zoom in and zoom out options and customize the design as per requirement.
Import All Server Folders and Media
Single or multiple folders/files import funcationlality from your server, choose whether to import only folders or both files & folders and hit the import button to add in the default WordPress media library with folder structure. Isn't it so simple.